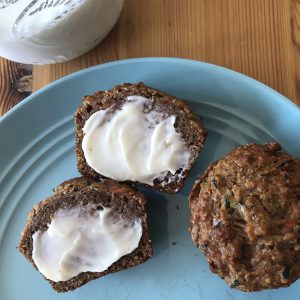 1. Carrot Zucchini Muffins

Breakfast
Try this delicious blend of garden vegetables, fruit, & spices for a breakfast muffin that makes the healthy choice a tasty choice. This recipe uses only whole grain flours, is dairy free and naturally sweetened with apples, honey & maple syrup.
Our Printable PDF Recipe :
Carrot Zucchini Muffins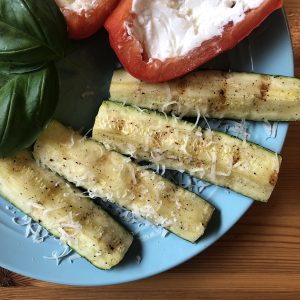 2. Perfectly Grilled Zucchini Spears

Side Dish
This recipe is so simple it really doesn't need a recipe at all. Brushed with avocado oil, a little cracked black pepper, grilled to perfection, and garnished with a little freshly shredded parm makes these zucchini spears the ideal side dish for any barbeque night!
Our Printable PDF Recipe :
Perfectly Grilled Zucchini Spears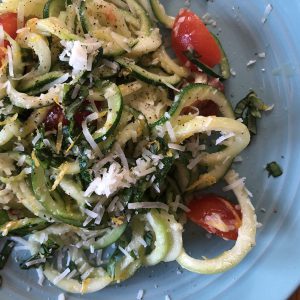 3. Summer Garden Zoodles

Side Dish
Perfect for hot summer days, this light and easy zoodle recipe keeps it fresh with lemon zest, chopped basil and cherry tomatoes fresh from your garden. They whip up so quick, you'll be savouring this pasta alternative in no time.
Our Printable PDF Recipe :
Summer Garden Zoodles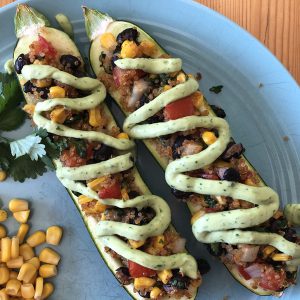 4. Mexican Zucchini Boats

Main Dish
These zucchini boats are hands down a fan favourite! Completely meat free and plant based, but bursting with enough flavour to satisfy any taco lover. Quinoa, yellow corn, black beans, roma tomatoes, sweet onions, fresh cilantro fill these boats, but it's the garlicky lime-avocado drizzle that really brings these flavours together.
Our Printable PDF Recipe :
Mexican Zucchini Boats w/Creamy Lime-Avocado Sauce
Mexican Zucchini Boats w/ Dairy Free Lime-Avocado Sauce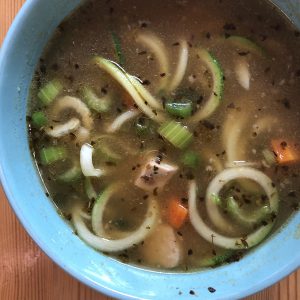 5. Chicken Zoodle Soup

Main Dish
Are you finding that same old bowl of chicken noodle soup getting a bit boring? Try it with zoodles! Perfect for a rainy day, you'll find your favourite comfort food just as flavourful and just as filling.
Our Printable PDF Recipe :
Chicken Zoodle Soup