How to Harvest and Use Lavender Buds
What is Lavender?
Lavender is a flowering herb in the mint family, easily identifiable by its sweet floral scent. It has long upright floral spikes with whorls of tiny flowers and a compact shrub-like form with silvery green foliage. While most lavender have flowers that are lavender in colour, there are varieties with that range from deep blue-purple to light pink and even white.
In more temperate climates, Lavender is famously used as staple in English style gardens, but here in Alberta we are very limited to which varieties will survive our cold winters. Some herbal gardeners will keep their lavender potted, to grow outdoors over the summer and be brought indoors for the winter.
What Makes Lavender so Great?
Originating in the Mediterranean and Middle East, lavender has a long history as a prized plant, dating as far back as 2,500 years. There's little surprise it was used as one of our earliest perfumes. Lavender was often used to scent clothing, hair, linens and many other personal items. However more surprisingly, lavender was also considered a holy herb by many cultures before we understood the concept of invisible germs. There are numerous historical accounts by ancient physicians claiming the effectiveness of using lavender to protect from infection and treat certain ailments with some success. The most notable are related to alleviating pain, calming or relaxing the mind and body, use as an antiseptic and more recently for its skin healing properties.
Disclaimer : This blog is meant as an educational and informational resource. While we strive for accuracy, the information provided in this blog is not intended to replace the advice of a medical professional. Please consult your medical practitioner or herbalist before using any plants especially if you take any prescription medications, have a pre-existing condition, allergies, or if you are pregnant or breastfeeding. Kiwi Nurseries Ltd. and the author of this blog do not accept any liability or responsibility for any consequences caused by consuming or using any plants. Any person who ingests or uses any plant, does so at their own risk.
Today we tend to use lavender through aromatherapy, however there are several current studies exploring the effectiveness of lavender oil as a form of alternative medicine. According to the clinical trials, lavender is showing promising results in its effectiveness to help relieve anxiety and depression, improve sleep and memory, and relieve certain types of pain. When used topically it has also shown some effectiveness as an anti-inflammatory, antibacterial, antifungal, and can benefit the skin in treating bruises, burns and wounds.
For more on the herbal medicinal uses of lavender and the different varieties available for use, please visit the theherbalacademy.com
Lavender can be used in everything from oils, tinctures, cosmetic preparations, herbal teas, beers, wine and even some culinary treats. The floral notes of lavender can add an unexpected sophistication to even the simplest of foods.
Use Caution with Lavender
While lavender is one of the safest plants for general use, there are a few cautions. First, be sure of which variety you are using. Not all varieties are safe and some can become toxic. Once the variety is verified, and known to be safe, do NOT overuse it. Instead, use lavender mindfully in smaller, more beneficial quantities. Even a safe plant can become harmful when used too much or too often. Last always test for reactions. Some people with sensitive skin may find lavender irritating. Lavender can also exacerbate medical drugs with a sedative quality. Always check with your pharmacist or trusted health care practitioner before ingesting herbs which may interfere with current medications.
When & How to Harvest Lavender
The best time to harvest lavender is just before the flowers open. Once you have a stalk full of unopened buds, simply snip the base if the stalk, leaving long stems for bundling. One you have collected a handful of stalks, tie the stems together using twine or natural fiber cording, such as jute. Hang the bundles to dry in a cool, well ventilated area out of direct sunlight.
After a few weeks the stalks and flower buds should be completely dry. Untie the bundles and toss them into a larger container such as a paper or linen bag to gently shake the buds lose from their stalks.
How to Store Your Lavender
Dried buds can be stored in a lidded jar, out of direct sunlight in a cool, dark place. Dried buds maintain their quality for up to 2 – 3 years if stored properly. Another option to store your lavender is to create your own lavender infused oil or a lavender tincture. Both will also keep well in an air-tight container, stored in a cool dark place.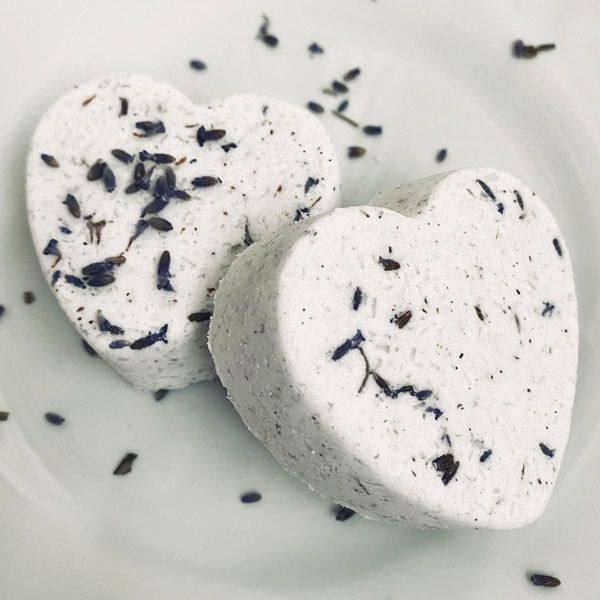 What better way than to relax and unwind your whole body than a soak in the bathtub with one of these lavender bath bombs. They are incredibly easy to make and only require a silicone mold for shaping. Drop one in the water and watch it fizz away as you inhale the gentle scent of lavender. This recipe is not made with the typical essential oils but rather your own brew of lavender infused oil.
Our Printable PDF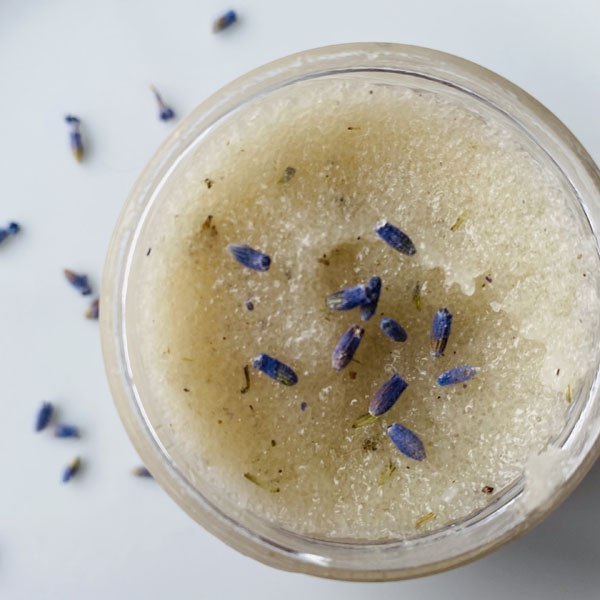 Lavender Honey Sugar Scrub
While your in the tub, try out our favourite lavender honey scrub. This gentle sugar scrub is great for exfoliating, while the moisturizing and healing properties of lavender, honey, and coconut oil leave your skin feeling refreshed and renewed.
Our Printable PDF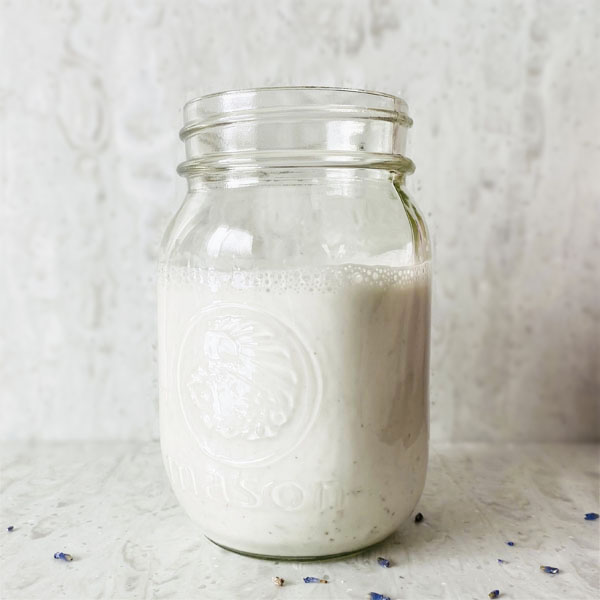 Lavender Coconut Milk Body Wash
No bath is complete without a head to toe wash. Rather than lathering up with your typical soap, treat yourself to a luxurious lavender coconut milk bath. You'll leave your tub feeling like you just stepped out of the spa.
Our Printable PDF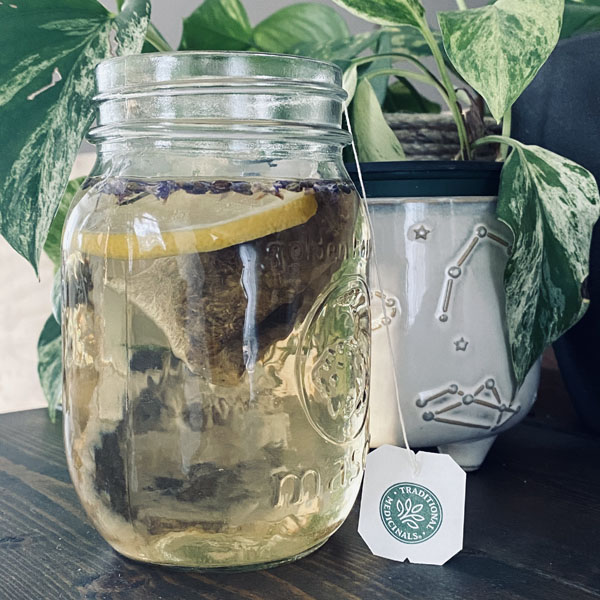 Calming Chamomile Lavender Tea
After a long day, try unwinding with a cup of hot calming lavender tea.  Inhale the floral scent of lavender with each sip infused with the sleep inducing properties of lavender and chamomile.
Our Printable PDF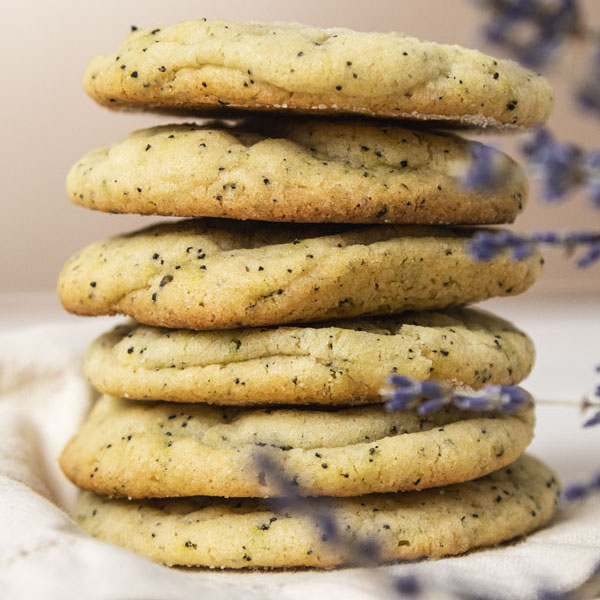 Lavender Earl Grey Cookies
We recently came across this cookie online and we couldn't pass up the opportunity to share. Similar to a snicker doodle, this cookie is light and chewy with a subtle sweetness, but the earl grey and lavender add that sophisticated flare that is sure to impress even the most seasoned cookie connoisseur.
The Online Recipe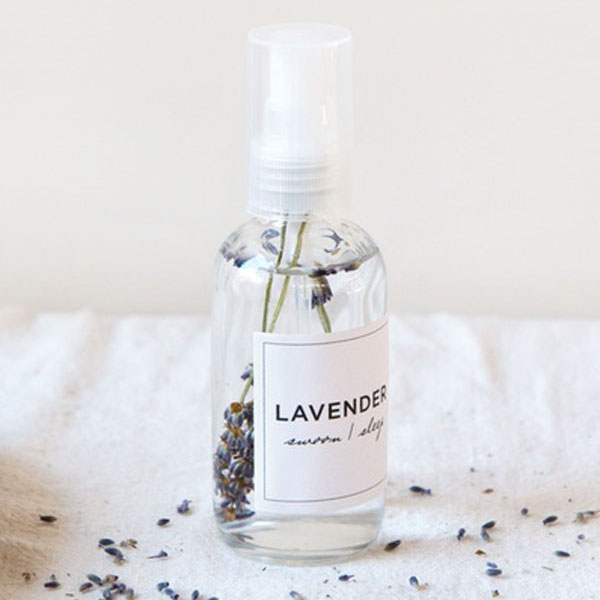 Lavender has long been used to help lull children and adults alike into a more restful sleep. This incredibly easy linen spray can be kept on your bedside table and used nightly as the perfect way to relax your mind as you drift off into your dreams.
Our Printable PDF