Container gardening is a fantastic alternative way to garden, especially for those who have limited to no space for raised beds or in-ground gardens. Most plants will grow in a pot or planter including all sorts of flowers, veggies, herbs, and even some shrubs and dwarf variety trees, so long as they have the right conditions. As with traditional gardens, plants will need an environment that provides the right amount of light, water, and nutrients, as well as adequate space for healthy root development.
Container Garden PROS
1. You will have greater control over the growing conditions of your plants, providing the opportunity to customize conditions to the individual needs of each plant.
2. You can place your containers in practical locations to streamline your gardening process.
3. You'll experience fewer weeds and pests.
Container Garden CONS
1. You'll need to better familiarize yourself with the specific growing conditions for your plants.
2. You'll need to water more frequently, while also being mindful not to overwater.
3. You may also need to use more compost or organic fertilizers to ensure the plants get adequate nutrition.
The Container Matters
Whether you are upcycling, thrifting, or splurging on something new, the size and type of container will play a significant role in how well your plants grow. Keep in mind that there's no one size fits all. As a general rule of thumb, you'll want larger pots for larger plants and smaller pots for smaller plants. For root veggies, like carrots, you'll also want to ensure plenty of added depth to give the roots some room to grow. 
Container Types
Clay and Terracotta pots are attractive but breakable. In our colder climate, they are more susceptible to cracking or breaking especially if they experience freezing and thawing. Terracotta and clay pots also have a tendency to wick moisture from the potting mix, this can be great for plants that prefer dryer climates such as cacti and succulents, but for most flowers, veggies, and herbs this will just increase the need to water more often.
Plastic and Fiberglass pots and planters are relatively inexpensive, lightweight, and come in many shapes and sizes. When choosing a plastic or fiberglass pot, the thicker and more flexible the better. Avoid thin, stiff pots and planters as they will become brittle with the cold and age.
Wood containers have a few benefits beyond their charming rustic look. First, their thicker walls provide a greater thermal mass which heats and cools slowly, protecting roots from rapid temperature swings. Wooden planters can also be built yourself, giving you the added benefit of creating custom shapes and sizes. TIP: When building yourself, choose untreated and naturally rot-resistant wood, such as cedar.
Metal containers are strong, but conduct heat and can expose roots to rapid temperature fluxations.
Cast Concrete is a long-lasting material that comes in a range of sizes and styles. They can be left outdoors even through our northern winter. However, they are also very heavy and difficult to move. Due to their weight, they are not suitable for use on decks or balconies.
TIP: No matter which container you choose, be sure it has proper drainage. Without adequate drainage, your plants will suffer from root rot which usually leads to the demise of your plants.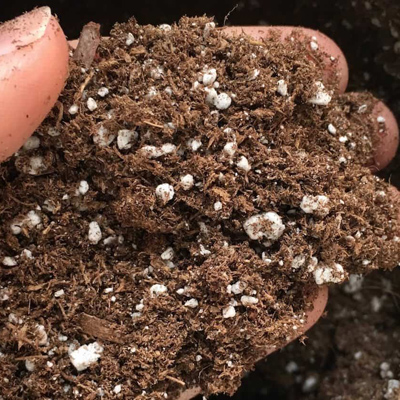 The Soil Matters
The first rule of fight club… I mean, the first rule of container gardening is DO NOT use garden soil! Garden soil lacks the amendments needed to provide adequate nutrients, good aeration, and the necessary drainage for healthy root development. The best soils for containers are actually "soilless" potting mixes that are specifically formulated for use in containers. They will be quick draining, lightweight, as well as disease and pest free.
DIY Potting Mix
Potting mix consists of four parts:
1. Peat moss or coconut coir for moisture retention.
2. Pearlite or vermiculite for aeration.
3. Compost or organic fertilizer for nutrients.
4. Pine bark or wood chips for anchorage.
While most store-bought potting mixes will have a healthy ratio of amendments, sometimes it can be beneficial to create your own custom potting mix. By adjusting the ratios, you can create the ideal mix based on the specific needs of different plants. For example, heavy feeders can benefit from a little extra compost or sea soil! Whereas plants that prefer less water will benefit from a higher ratio of perlite or vermiculite and plants that prefer more moisture will benefit from a higher ratio of peat moss or coconut coir.
The Location Matters
Containers, containers everywhere! Well, maybe not everywhere, but one of the distinct benefits of a container garden is the ability to place your containers in multiple locations, ideally locations specific to the plants being grown or locations that make practical sense. Herbs grown in containers can easily be grown immediately off the kitchen door. Shade-loving leafy greens can be grown in containers placed in the shady spots of your yard. Or maybe you have a yard that's too shady for an in-ground garden, but a bright and sunny deck – container gardening makes it possible to be flexible with where you grow your plants! Be sure to consider both the light and water needs of your plants when choosing your container locations.
The Plants Matter
Well, sorta. Technically, just about any plant can be grown in a container so long as it has the right conditions, but some plants are easier than others. Here are a few of our favourite plants that tend to do well when grown in pots and planters!
Arugula
Bush Beans
Beets
Broccoli
Drying Beans
Carrots
Chard
Cucumbers
Egg Plant
Kale
Lettuce
Onions
Pac Choi
Peas
Peppers
Pole Beans
Potatoes
Radishes
Salad Greens
Spinach
Strawberries
Squash
Swiss Chard
Tomatoes
Basil
Chives
Cilantro
Dill
Lavender
Lemon Balm
Lemon Verbena
Lemongrass
Marjoram
Mint
Oregano
Parsley
Rosemary
Sage
Tarragon
Thyme
Alyssum
Aster
Astilbe
Black-Eyed Susan
Blanket Flower
Calendula
Catmint
Chamomile
Chrysanthemum
Coral Bell
Coreopsis
Cosmos
Daylily
Delphinium
Dianthus
Echinacea
Foxglove
Hosta
Iberis
Iris
Lavender
Marigold
Nasturtium
Pansies
Tansies
Salvia
Sedum
Sunflower
Sweet Pea
Veronica
Yarrow