How to Get the Most Out of Your Live Tree
Why Get a Live Tree
Each December millions of families deck the halls and adorn their homes in holiday cheer. For most, their holiday decorating will include a Christmas Tree and at some point each of those families will make a decision to use a fake tree or cut down a live tree for their annual tradition. If you find yourself facing this decision there are a few reasons why you might want to consider getting a live tree this year.
Protecting Environment :
While a fake tree can be boxed up after the holidays and used again next year, its longevity is due to the nonbiodegradable materials used to make that tree, mostly PVC films. PVC films are made from fossil fuels through a manufacturing process that involves high emissions of greenhouse gasses. Many of those trees are produced overseas and then shipped, increasing their harmful impact on our environment.
A live tree is usually grown on a tree farm with minimal greenhouse emissions by comparison. Tree farms typically keep a rotation of trees growing to meet the demand year after year. This means, trees cut down are replaced year after year. Live trees are a source of oxygen and help to absorb CO2 levels; and having a demand for tree farms guarantees land allocated to that process. Live trees are biodegradable and a renewable resource, unlike fossil fuels. And rather than sitting in a landfill for centuries as a fake tree does once you're done, a live tree can be used as firewood or allowed to decompose into healthy viable soil.
Psychological Benefit :
Even though a fake tree is meant to play the part, it is no match for the real thing. Throughout history people living in colder climates have brought evergreens into their homes to help weather their winters indoors. More and more we are learning that our connection with nature plays a significant role in our emotional and spiritual health.
How to Choose a Live Tree
Where to Find a Live Tree :
Pre-cut trees can be found at a variety of places this time of year. Many major retailers and local markets will have quite a few trees bundled up and ready to go throughout the month of December. If you'd prefer to cut your own tree, Fir Ever Green Tree Farm is a great place to take the family in search of the perfect tree. Another option for cutting your own is to acquire a Personal Use Forest Products Permit (PUFPP) to cut one from designated Crown land areas.
Which Variety is Best :
Balsam fir trees have the softest needles which makes decorating more enjoyable. The balsam fir also has that great christmas tree smell and holds its needles fairly well. Spruce and Pine also keep their needles quite well and have sturdier branches excellent for decorating with heavier ornaments. Spruce and Pine also tend to be a bit more poky, which might help keep young kids and kitties out of your tree.
How to Make a Live Tree Safe
Keep it Well Watered
Live trees can become a fire hazard if they are allowed to dry out, so it is vital to the safety of your home and family to keep your tree well watered. Depending on the size, a cut tree can still uptake several litres of water a day. Be sure to choose a tree stand that can hold at least couple litres of water and top it off daily or twice daily if needed.
Keep it Away From Heat
Next to keeping your tree from drying out, a live tree also needs to be kept away from heat. Avoid placing your tree near direct heat sources such as a fireplace, wood stove, furnace vents or bare windows with direct sunlight. If using lights on your trees, consider using LED lights which are cooler to the touch and, most importantly, do NOT use candles or any source of open flames near your tree.
How to Make a Live Tree Last
Get a Fresh Cut Tree
If you don't cut your own, the best way to make sure your tree will last through the month is to find a fresh cut tree. A fresh cut tree can be identified by its feel and smell. Look for one that's aromatic and sappy rather than one that is dry and brittle. An easy tell is to test needle retention by gently running your hand over a branch. Drier trees will shed far more needles than a freshly cut tree.
Keep it Well Watered
Most importantly, make sure your tree gets as much water as needed as soon as possible.  When you get your tree home, make a new cut at least 4 inches from the bottom of the tree trunk and immediately place it into warm water to help get the sap flowing. Water your tree daily to keep it well hydrated.
More Ideas to Get the Most Out of Your Live Tree
To truly get the most out of your tree, choose a tree that you can take cuttings from for decorating other areas of your home. A good rule of thumb is to look for a tree that is dense and can be thinned by cuttings from the center. Another option is to choose a tree that is nearly a foot taller than you need; the bottom branches and extra foot of tree trunk can then be cut off to be used in other decorating projects.
How to Make a Your Cuttings Last
Tree cuttings will not last as long as a full tree kept in water. It is best to preserve your cuttings until you are ready to use them. Try to time your other projects closer to the date when you will need them.
Keep Them Outside
Once your cuttings have been separated from your tree, they can be kept outside in freezing temperatures and out of the sun to preserve them until you are ready to bring them inside.
Soak Them
When you are ready to bring them inside, rehydrate your cuttings by letting them soak in warm water for several hours before use.
Mist Them
Once your cuttings are rehydrated they are ready to be used in your arrangements. To help prevent them from drying out once arranged, they can be misted with water daily, if needed.
What to Make with Your Tree Cuttings
There are many things you can create from your tree cuttings, here are just a few projects we love.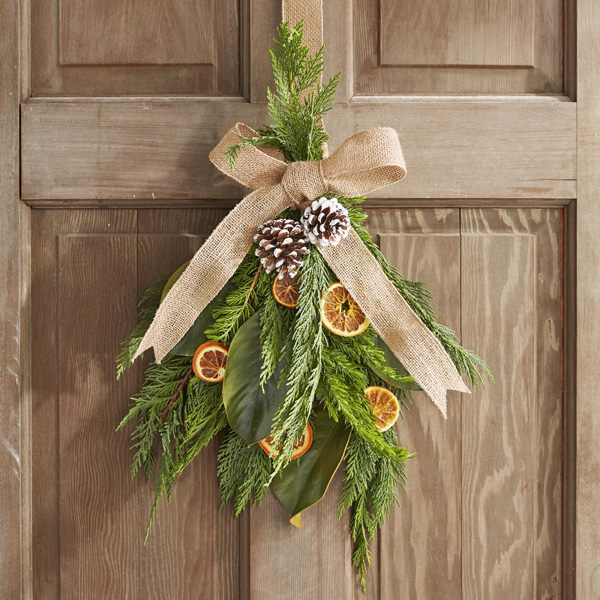 Create Door Swag
Extra branches cut from your tree can be used to deck your door in holiday cheer. Check out our video tutorial on creating an Evergreen Hanging here!
Add Evergreens to Gifts
Spruce up your gift wrap, by adding a sprig of holiday evergreens for a modern minimalist look that's sure to impress.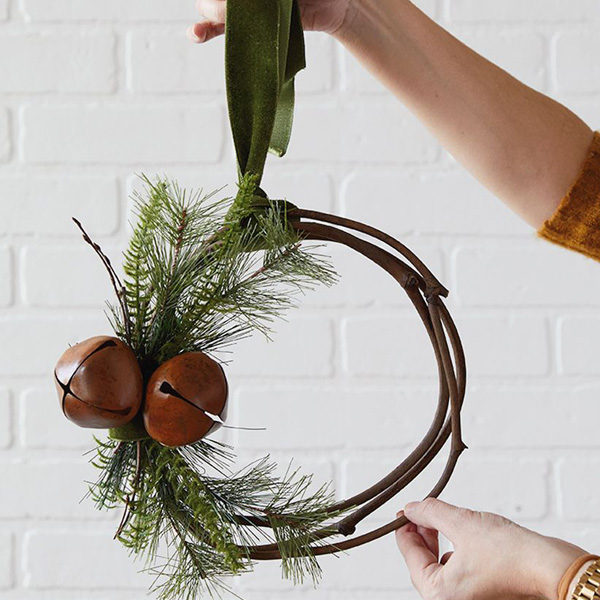 Create a Modern Wreath
This simple DIY can be achieved by tying a few cuttings to any type of hoop. Add a bow and a couple of embellishments and you have yourself a Modern Holiday Wreath.
Make Mini Trees
Add a bit of holiday cheer to a side table or shelf with Mini Trees. Mini Trees can be made by arranging cuttings from your big tree!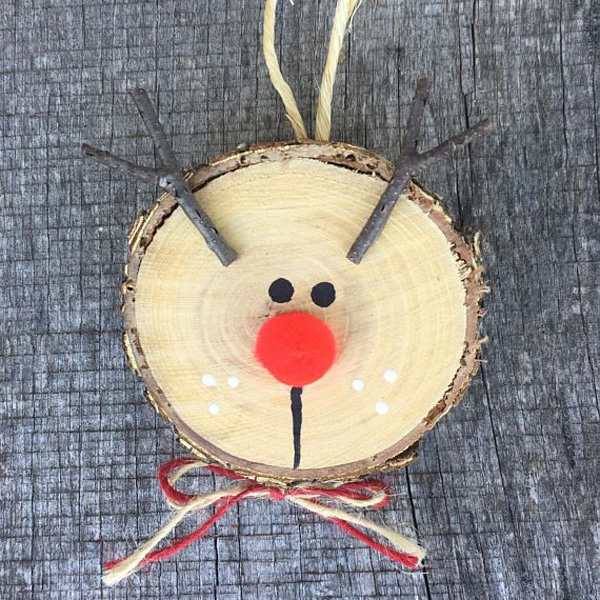 Make a Keepsake Ornament
Keepsake ornaments made from tree trunk offcuts would make a great holiday tradition. Decorate and date an ornament each year and enjoy a tree full of memories.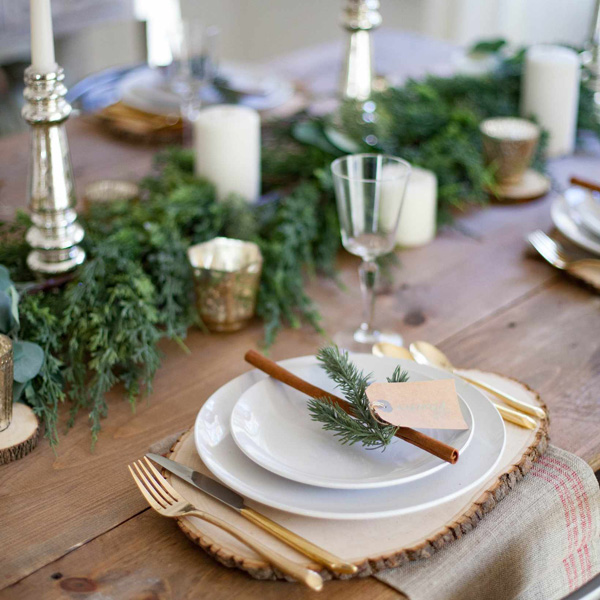 Create a Festive Centerpiece
Cuttings from your tree can be arranged to run the center length of your table. Simply add some fairy lights, ornaments, or other embellishments to create a festive centerpiece for your holiday meal this year.