Four Beneficial Plants Found in Alberta During Winter
Many plant species native to Alberta can be foraged for their beneficial properties. Foraging can be a year long adventure; different parts of a plant will be ideal to forage at different times of the year. This is largely due to the fact that as the seasons turn, a plant will send more energy into different parts of itself as part of its life cycle. While most plants have gone dormant by November, there are a few species that hold on to specific parts, such as fruit or needles, throughout the winter and can offer us a variety of benefits. We have chosen to highlight four such plants, but there are many more. The following four can easily be identified and found around Alberta's natural landscape, but they are also species we carry at Kiwi for those who'd like to create their own intentional food forest for more convenient and certain foraging.
Foraging Safely
Just like everything else we put into our body, plants have the power to either help or hinder our health, so it is important to know which plants and plant parts are safe to forage.
This blog is meant as an educational and informational resource. While we strive for accuracy, the information provided in this blog is not intended to replace the advice of a medical professional. Please consult your medical practitioner or herbalist before using any plants especially if you take any prescription medications, have a pre-existing condition, allergies, or if you are pregnant or breastfeeding. Kiwi Nurseries Ltd. and the author of this blog do not accept any liability or responsibility for any consequences caused by consuming or using any plants. Any person who ingests or uses any plant, does so at their own risk.
That said, correct identification is crucial in foraging safety. Some plants are toxic, even deadly, and many species can easily be mistaken if you are not well experienced in plant identification. We strongly recommend that any plant foraged be cross referenced with several reputable sources and getting a positive identification from more experienced foragers when possible. If there is any doubt, it is best to err on the side of caution and avoid the risk of accidental misidentification.
Once you feel confident in a correct identification, it is also recommended to further safeguard your health by testing your reaction to the plant. Only try a small portion of the plant to be sure no adverse reaction occurs. Keeping a sample journal can also prove useful in foraging safely. Keep a small sample of the plant, as well as jotting down information on the believed identification, where the plant was found, when and how it was used, as well as any suspicious reactions you may have experienced. This will help track which plants are known to be safe for foraging in future years.
In addition to correctly identifying which plants are safe, it is also important to know your environment. Plants can absorb contaminants in the soil and air, so avoid foraging in areas that may be polluted by toxins. Areas to avoid would include high traffic roads, industrial areas, along dirty waterways, city maintained grounds or any area where pesticides, herbicides, fungicides may have been used or can be found. You will also want to avoid biological contaminants from animals or human waste, often found in dog parks or near septic fields.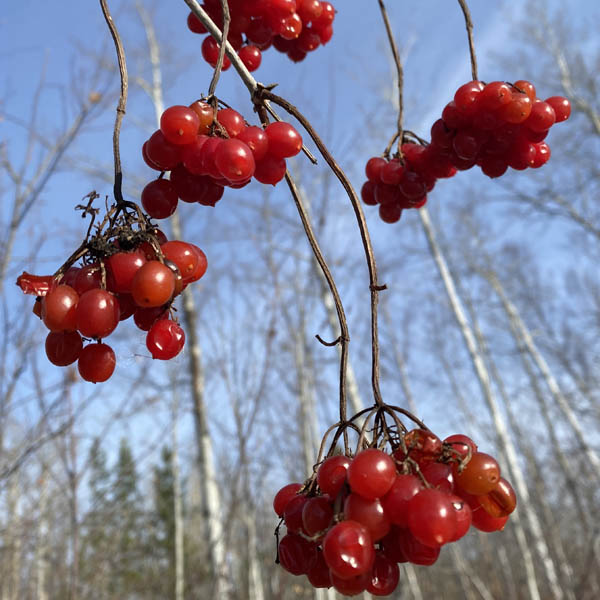 1. Highbush Cranberry
Parts Used :
Bark and Berries.
Habitat :
Woods, riverbanks, streams, and thickets.
Harvest Time :
Bark is best harvested in summer or late autumn, either before a plant goes to berry or after berries have finished growing.
Berries are best harvested in late autumn and early winter, after frost, when the berries become ripe and soften.
Nutritional Properties :
Bark contains calcium, chromium, cobalt, iron, magnesium, manganese, phosphorus, potassium, selenium, tin, and zinc.
Berries are an excellent source of vitamins C and K.
Medicinal Properties :
The bark is a known antispasmodic, astringent, diuretic, nervine, and sedative.
Food Preparations :
Deseeding highbush cranberries take a lot of effort, so these rather than using the whole fruit, these vitamin c rich berries are better used in making juices and jellies.
Medicinal Preparations :
Bark can prepared as a decoction, compress, poultice, cream, oil, salve, or tea tincture.
Berries are best used in medicinal syrup.
2. Rose Hips
Parts Used :
Hips.
Habitat :
Woodland clearings and riverbanks.
Harvest Time :
Late autumn and early winter. Best if harvested after frost.
Nutritional Properties :
Calcium, iron, magnesium, niacin, phosphorus, potassium, protein, riboflavin, selenium, sodium, vitamins A, E and C, and zinc.
Medicinal Properties :
Antimicrobial, antiscorbutic, antispasmodic, astringent, and diuretic.
Food Preparations :
Highly nutritious, hips can be used in many ways, however they are most commonly used in jams, jellies, syrup, teas/tisanes or dried for use in salads.
TIP : When using hips be sure to remove the seeds and irritating hairs before consuming.
Medicinal Preparations :
Decoction, medicinal syrup, and tea tincture.
Cosmetic Preparations :
Hydrosol, infusions in water or oil, cream, salve, and bath preparations.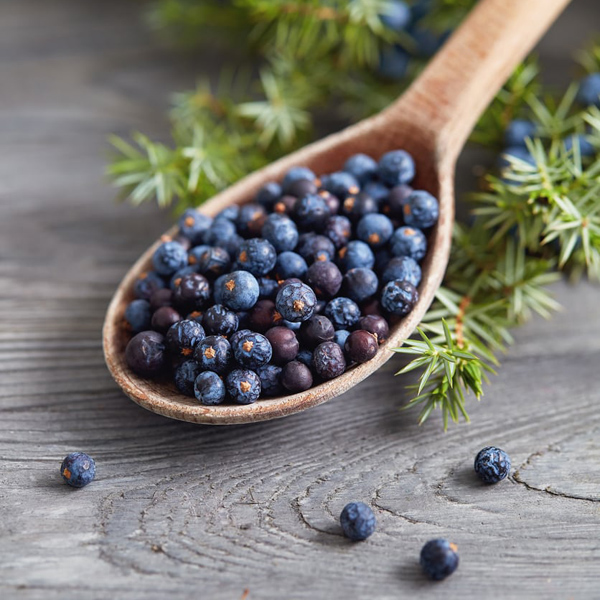 3. Juniper
Parts Used :
Berries, stems and needles.
Habitat :
Varies by variety.
Harvest Time :
Berries take 3 years to ripen, but can be harvested throughout the year, once ripe. Needles can be harvested year round.
Nutritional Properties :
Chromium, cobalt, iron, magnesium, manganese, niacin, phosphorus, potassium, protein, riboflavin, selenium, silicon, sodium, thiamine, tin, vitamins A and C.
Medicinal Properties :
Analgesic, antibacterial, anti-inflammatory, antimicrobial, anti-rheumatic, antiseptic, aromatic, carminative, diaphoretic, digestive aid, disinfectant, diuretic, emmenagogue, stimulant, tonic, urinary antiseptic, uterine stimulant.
Food Preparations :
There are many uses for juniper berries in the kitchen both for their flavour and for their benefits. Berries can be eaten raw, as a beneficial additive to fermented foods, in teas/tisanes or dried to be ground as a seasoning.
Medicinal Preparations :
The berries and needles can be used in a number of different preparations to include bath infusions, cream, essential oil, hydrosol, oil infusions, liniment, poultice, salve syrup, tea/tisane, tincture, and wash.
Cosmetic Preparations :
A decoction of the stem and needles can be used as a wash for the scalp or as a facial astringent.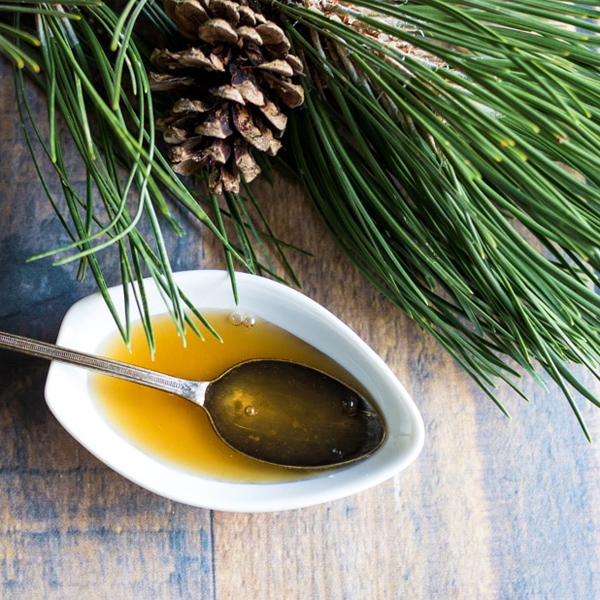 4. Pine
Parts Used :
Needles and sprigs.
Habitat :
Varies by variety, usually found in woodland areas.
Harvest Time :
Anytime as needed.
Nutritional Properties :
Vitamin C, beta carotene, starch and sugars.
Medicinal Properties :
Analgesic, anti fungal, antimicrobial, antiseptic, and disinfectant.
Food Preparations :
Used mostly in teas/tisanes.
Medicinal Preparations :
Pine can be used in a cream, essential oil, infusion, liniment, oil, poultice, salve, soak, steam, tea and wash.
Other Preparations :
Pine also makes a great household cleaner when infused with vinegar.