Muralist Brings New Zealand to Our Alberta Nursery
If you've ever visited our nursery, you've probably noticed a few grey trailers around the property. Over the years we have converted these trailers to become our office building, staff facilities, and even our new washrooms, which have not been opened to the public yet. You may have also noticed another new addition, the Caffeinated Kiwi, our little grey food truck parked on the property serving up caffeinated drinks and locally made treats.
Well, that's a lot of grey and a bit boring. So we decided to remedy this with something a bit more fun. That's when we came across the talents of local muralist Robert Murray. His hand painted custom murals often depict scenic views where he captures the foliage of plants with the style of a true impressionist. Impressed by his work, we invited him out to to bring new life to our trailers.
Each trailer was painted with something different, many of which were painted with tributes to our New Zealand roots. Scenes from Alison and Murray's childhood memories as well as iconic plants and landscapes, bring a bit of New Zealand back to our Alberta Nursery.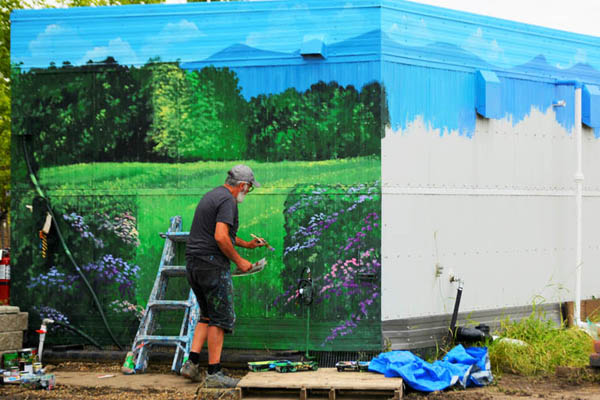 Robert Murray
Originally from Ontario, Robert came to Alberta to study fine arts at Red Deer College after high school. After college he spent some time in England where he found his impressionist style, now seen throughout his murals across the city.
His paintings can be found on a range of canvases, from 3 pound rocks to entire 3 story building walls. His work has evolved over decades and can be found throughout North America.
The Shack
From the tunnel of Alison's childhood farm to our tribute to Hobbiton, the shack was painted with our history in mind. See our shack murals, before and after, and learn about the stories behind them here.
The Shed
The shed, otherwise known as our staff building, was painted with a train, scenic views and a red doored cottage vista.
The Caffeinated Kiwi
Painted with iconic plants of New Zealand, this trailer brings the tropical vegetation of New Zealand back home to us in Alberta.
The Washrooms
Tucked away towards the back of our retail yard, this trailer has some whimsical imagery to stumble upon, making a trip to the washroom a bit more fun.