The Shack, as we call it, was painted with New Zealand and our history in mind. Sharing Murray and Alison's beginnings in New Zealand has always been very important to us, so when Muralist Robert Murray asked us what we'd like to have painted on our trailers, the answer was easy. We combed through old family photos and brought a little bit of New Zealand to our Alberta nursery.
Tunnel to Alison's Childhood Farm
Painted on the south end of the shack is a picture of the tunnel Alison had to travel through to reach her childhood farm. Located at the end of a beautiful valley surrounded by hills, you couldn't go around them so sometimes you'd have to go through them. She has fond memories of the horn being honked, stopping the car and turning off the lights to see the glow worms. Sometimes she'd sing at the top of her lungs while travelling through the tunnel in the back of a truck. The highlight though was travelling through on top of the hay bales, almost touching the ceiling. This painting turned out beautifully, especially when viewed from across the nursery, but more importantly it brings a bit of her childhood nostalgia to the nursery.
Tribute to Hobbiton
New Zealand has had many famous movies shot on their beautiful landscapes. One that you will never forget is the Lord of the rings. Hobbiton is a real place in New Zealand that was once just a farmer's field. When producers asked to make the movie set on his farm, the farmer said only if you turn it back to pasture land at the end of production. Before he knew it, people showed interest in visiting this iconic movie set so they had to rebuild the entire scene. You can find the real Hobbiton just outside of Matamata, but you'll also find our tribute to Hobbiton on the east side of the shack.
The Legend of Mt Taranaki
On the west side of the shack is Mt Egmont, now known by its Maori name Mt Taranaki. This is the view of the mountain that is seen from Alison's childhood home and farm. This iconic mountain and local legend, welcomes one and all home. It is a common sentiment that once you see Mt Taranaki, you know you are home.  The legend goes that three mountains were challenging Mt Tongariro for the love of Pihanga. All three challengers were sorely beaten and used the cover of darkness to make their retreat. Taranaki headed westward gouging a deep furrow which is now the Whanganui river. The grief of Taranaki was too much for Pihanga so she sent soft clouds to embrace and soothe him.  They now stand side by side to this very day. Locals would never want to sleep between Mt Taranaki and Mt Tongario for fear that the two mountains might return to battle.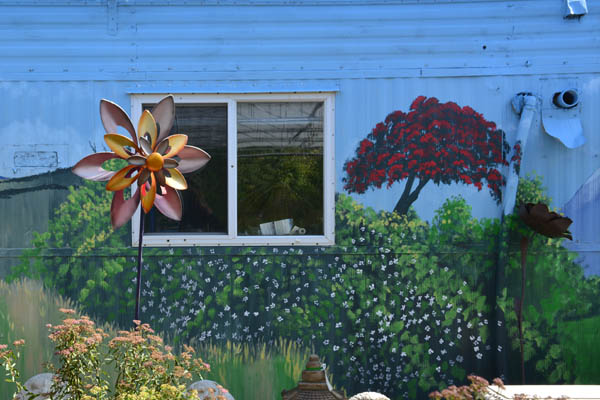 Iconic Trees of New Zealand
Murray has always loved to farm and when his nephew was looking for a partner he found himself buying a farm in New Zealand. There is no such thing as 'flat' on this farm, just steep hills. Murray and Alison remember as children that the manuka was considered a nuisance tree.  Much time and money was spent cutting down manuka to make way for good pasture land. As an ironic twist Murray is now planting more manuka plants on his property for the bees to produce manuka honey. 
The Pohutukawa tree grows along miles of coastlines throughout New Zealand. It is known as the New Zealand Christmas tree as it is covered with beautiful red flowers in December right through Christmas. This beautiful tree brings back childhood memories of fun days at the beach. The iconic Pohutukawa tree can be found nestled just to the left of Mt. Taranaki on the west side of the shack.