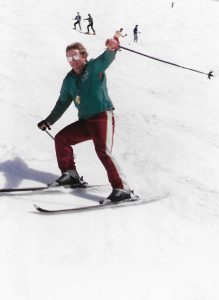 Although many staff have come and gone through the seasons at Kiwi some names, faces and stories will always remain etched in the Munros' memories.
Since the early years of Kiwi, some of their most dependable, long-term employees have been semi-retired men who were looking for winters off for travel and the opportunity to work more independently and outside. This was the perfect fit for Kiwi, especially as the Nursery progressed and there was more maintenance than Murray could handle on his own while also running commercial landscaping crews. In the 90's and 2000's most of the tractor work and general maintenance around the farm was done with the help of two dedicated semi-retired employees.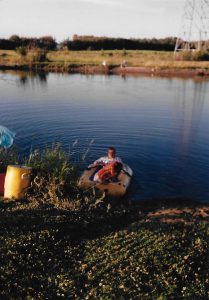 In the earlier days of Kiwi, two amazing staff members stick out in Murray and Alison's memories as valuable staff and friends, and in Kathryn and Ashleigh's memories as "part of the family" growing up. When asked about staff memories, all the Munros will tell you stories of Pete and George. Both were friends of Murray and Alison's before becoming employees and were looking for slower paced work with the flexibility of working with a company they knew and understood. George was a friend of the family and came to Kiwi at the request of his wife: "For God's sake, give George a job!" Ashleigh had a unique connection with George as a young child, and remembers him being at the house and saw him as an "uncle" type figure. She fondly remembers spending time with him and cherishing a doll he had given her shortly before passing away from cancer.
Peter was another employee who was part of Kiwi for years after moving away from his previous career. He worked in the shop as a mechanic, and over the years saw many memorable things happen. One such story perfectly highlights Murray's offbeat sense of humour: One day, Pete saw Murray walking past the workshop with some apples and a roll of tape in hand. When asked what he was doing, Murray told him that a customer was very insistent that they wanted an apple tree, despite Murray telling him they had none in the Nursery. So Murray decided to "give the guy what he wanted" instead of repeating himself saying there were no apple trees, and taped apples to a tree and delivered it. Peter was part of the family and watched Kathryn and Ashleigh grow up. Sharing his lunch with the girls and the animals who would just happen to show up at lunchtime, and "teaching" a 4 year old Ashleigh how to drive his punch buggy down the driveway which always had a fake sunflower on the dash. He often fixed thing the girls had broken before Murray could find out on the sly. Peter and his wife Lydia used to join the Munros for family dinners and would go for dinner with them until Peter passed away.