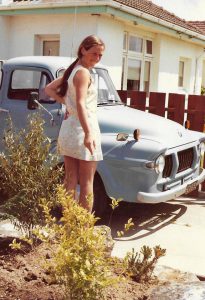 After graduating from Massey University in 1973, Alison applied for Food Technology jobs in the South Island of New Zealand as she wanted to see more of her country. She chose to accept a position in Alliance Freezing Works and was the highest paid graduate from her class. At the same time, Murray had just bought his grandmother's house in Invercargill and was looking for flatmates to help with the mortgage payments.
A good university friend of Alison's, Lester Laughton, was from Invercargill (and was married to Murray's sister Melva) so she asked him if he knew of anyone looking for a flatmate. He mentioned Murray and Alison to each other, and Murray wrote to Alison offering her a room for $6.00/week. She took him up on his offer and moved in the first week of 1974 along with a second flatmate.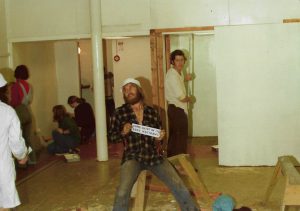 Murray and Alison came from very different backgrounds, but still shared many common interests and had a spark from day one. Living together as flatmates put their relationship on a fast track and by the end of 1974 they were engaged (on Murray's birthday) and were married in March 1975, on Alison's birthday, to avoid having to remember another date for an anniversary. Their honeymoon was "a bit of a disaster" according to Alison, because Murray was in a lot of pain due to an abscessed tooth and they rushed home early to vote for their Young National candidate in their riding.
Having grown up with very little, Alison was a saver, so with her first pay cheque she opened up a First Time Homeowner's account. However, as things progressed with Murray it was determined that she couldn't use this plan as Murray was already a homeowner, so instead she cashed it in and brought a small ski boat called Y-Kiwi. This was not typically in her character so Murray's influence was already showing. They spent many summer evenings and weekends with friends skiing at the local water ski club. They also enjoyed Scottish country dancing and Alison continued playing netball.
During this time Murray landscaped the front yard of the house, installing a small pond and walkway. Often neighbours would be seen wandering off the sidewalk and down the pathway to check out the pond and the beautiful front yard. Their backyard had a few hens and a lamb, plus a small greenhouse. Little did they know that over 40 years later they'd have commercial sized greenhouses and free-range hens at their very own Nursery in Alberta, Canada.
When Murray returned to New Zealand in 1971 after his time in Denmark on the International Agricultural Exchange Program, he returned to his entrepreneurial roots and went into business with Ray Smith, who he had apprenticed with at Diack's Nurseries. They formed Munro Smith Landscaping, specializing in residential landscaping, winter pruning and a few commercial sites. They also started a small nursery on the outskirts of Invercargill, growing shrubs, hedging materials and a few small trees.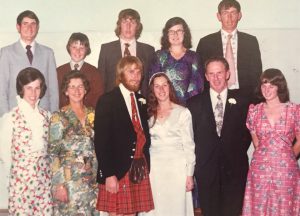 In 1975, shortly before Murray and Alison's wedding, Murray's business partner chose to leave landscaping behind, and their partnership dissolved. Murray changed the company to Munro Landscaping and continued both residential and commercial landscaping, including landscaping the first KFC in Invercargill.
During this time, Alison continued working at Alliance Freezing works as a Food Technologist. She enjoyed working in a lab where she managed her own time and projects and was her "own boss", giving her a taste for entrepreneurship. One of the projects Alison enjoyed worked on was developing freeze dried foods for the New Zealand Army.
Murray and Alison followed their respective career pursuits throughout the first year of their marriage, until moving to Canada in 1976 where they furthered their skills and experiences, bringing them a little closer to the successful businesses they own and operate today.