Shortly before Murray and Alison married in 1975, Father Kaufmann (from the seminary farm where Murray had worked in Canada several years prior) was staying in Invercargill buying bull semen for his farm, so Murray and Alison went to visit him at his hotel. They both wanted to travel, so Murray asked him if there was a job for him back in Battleford, Saskatchewan. Father Kaufmann was thrilled at the idea of Murray returning to work at the Seminary, but told him he would need to immigrate, as it was easier to immigrate than get a work visa at that time.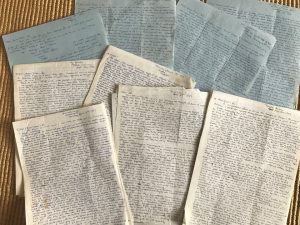 Murray and Alison jumped at the opportunity to travel, and Father Kaufmann started the process by applying to Canada Manpower for the necessary permit to bring the soon to be newlyweds to Canada. It was a whirlwind process including an interview with the Consulate General in Wellington, New Zealand where they were told to complete their medicals and send a telegram when this was done.
Six weeks later, the paperwork was completed, and Murray and Alison had their pink immigration slips. They sold Munro Landscaping, rented out their newer home (they had sold Murray's grandmother's old house in the latter part of 1975) and flew to Canada, landing in Vancouver on April 26, 1976 as Landed Immigrants with a plan to stay for two years.
They lived in Battleford for two years, Murray working on the farm at the Seminary and Alison working at odd jobs as there were no Food Technology positions in the area. The first year she worked wrapping meat, and the second year she waitressed in a local pub – a big change from the independent work in a lab back in New Zealand.
During their first winter in Canada, the couple backpacked in South America on a shoestring budget. This was the first time Murray had travelled with anyone. They travelled however they could afford: train, boat, private truck, and visited as many places as they could. After four months, their trip was cut short when Murray got hepatitis.