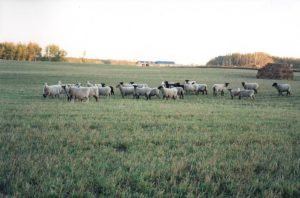 If you've visited the Nursery in the last few years, you may have seen chickens roaming around among the plants for sale. While this may not be common practice for retail nurseries and greenhouses, when you know the vast history of animals Murray and Alison have had around, the chickens don't seem quite so odd.
Growing up in New Zealand, both Murray and Alison always had animals around them both as pets and livestock. When they moved in together in Invercargill New Zealand in 1974, they had both chickens and lamb in their backyard. When they came to Battleford, Saskatchewan in 1976, Murray worked on a farm in a seminary with cows, pigs and chickens, taking a break from pets for a few years, with the exception of their Cockatoo named Frosty (more of that story later).
Once they moved onto their first piece of land west of Edmonton, the opportunities for raising animals opened up and the late 80's, 90's and 2000's were a constant stream of whatever animal intrigued Murray at the time. At various times for different timeframes, the Munros had a number of different animals that they raised to sell or for different uses around the nursery. They raised sheep, buffalo and wild boar – a bit of a failed experiment as the boar were very "cunning" and were prone to escaping from their enclosure to eat the neighbour's grain.
Murray always had an interest in birds but wasn't satisfied just with your average chickens. He raised all sorts of unique chicken breeds and over the years had ducks and geese for weed control at the nursery. For a few years, they tried their hand at raising Ostriches and Emus. Although not your typical livestock for the area, at the time there was a growing market for the lean, high protein meat, and the birds were hardy for Alberta's climate. As it turns out, Ostriches and Emus are a bit more complicated to raise than other animals they'd had, so after a few years they got out of raising exotic birds.
Now that Murray and Alison spend most of their winters in New Zealand, it is no longer feasible to have livestock of their own, but they rent some of their land to a local cattle farmer, and during the growing season the Nursery is home to 30 hens, providing weed and insect control at the nursery and laying eggs to supply their family, staff and many customers.
In addition to the wide range of livestock Murray and Alison had kept over the years they also had a unique assortment of family pets!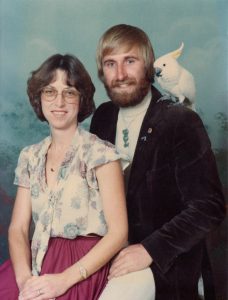 When Murray and Alison moved to Edmonton in 1978, the landlord of their basement suite gave them permission to have a pet Cockatoo. After not having pets for several years, they were excited to once again have the calming presence of an animal in their home.
Frosty the Cockatoo was very shy when they first brought him into their home, but as time went on he warmed up a bit and started coming into the kitchen when Alison was preparing food. He didn't seem to like the bird food they gave him, but loved eating cheese, carrots, egg yolks, the fat from steak or peas from the kitchen. One of his favourite foods was ice cream, which Murray and Alison would use to draw Frosty back inside after going for a little fly around the neighbourhood – he would eat ice cream until he shivered. Within a couple months, Frosty warmed up to his new owners and loved being scratched by Alison while sitting on her shoulder, preening her hair. He would sometimes even join Alison in the shower – hanging upside down on the rod so she could spray him – after which he loved being blow-dried.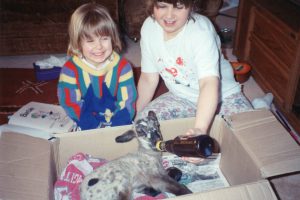 Once they moved into the brown house on the first land they purchased in 1985 (Farm 1), the Munro family now had the space for pets and over the years welcomed a wide range of animals into their family: cats, dogs, a horse, lambs, turtles, frogs, iguana, rabbits, ducks and ferrets. They felt that having animals around was important, especially for children – they believe that animals force you to slow down, offer unconditional love, and tend to "ground" you.
Their dog, Lady, was a border collie who needed room to run so came to live at the Munro farm. When Ashleigh was a preschooler, she and Alison were visiting another nursery that had a litter of puppies. Ashleigh fell in love with the runt of the litter, and took her home. Her name was Dog and she and Lady quickly became the best of friends (although Lady was always the "boss"). Along with their dogs, they also had pet lambs who slept with the dogs, ate dog food, used the dog door and came when called just like the dogs. The lambs and dogs would walk together with Kathryn and Ashleigh to the bus stop and would walk them back home at the end of the day. One of their pet lambs was named Tripod – he only had three legs.
As their kids grew up and moved out, the number of "unique" pets in the home decreased and as years passed their dogs and cats grew old and passed away. Murray and Alison do not currently have any pets in their home, though Ashleigh's Jack Russell Sophie certainly seems to the think she belongs in their home given the way her "grandma" Alison spoils her.