Although the company has changed and adapted during 40 years in business, no change is as observable and remarkable as the physical changes to the Nursery over the last decade.
In 2010, the existing 10'x10′ shack which was the hub for all their retail sales at the nursery was replaced by a larger ATCO trailer. This is the main office and cashier area to this day, and is still referred to as "the Shack".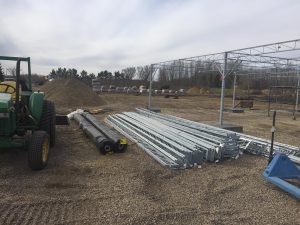 Around this same time, Murray began installing paving stones to create a more defined sales areas and get the plants and customers out of the mud. When Ashleigh started in 2012, she quickly saw the possibilities to create a better experience for their customers, and encouraged the addition of more paving stones and shade frames to better protect their increasing selection of plant material. The added retail space provided by the shade frames meant an expansion of the irrigation systems which now runs to thousands of trees, shrubs and perennials in dozens of locations around the Nursery.
Clearly defined aisles were created for neat rows of potted trees, and shelving was added to the ever-expanding shade frames to get the shrubs and perennials off the ground. After a massive expansion of plant products being offered, a demand for other garden products increased and in 2015 "the Shed" (another worksite trailer) was added to the nursery as a storage space for backstock of non-plant products, and doubled as a staff room for the increasing numbers of retail staff.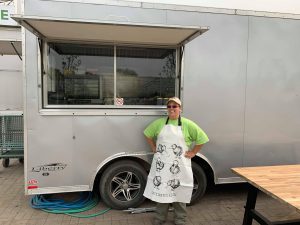 In 2016, Kiwi took the plunge to begin potting up and growing their own perennials, and in 2017 erected two greenhouses – one in the retail yard, and one near the workshop attached to a potting shed. The retail yard greenhouse has already changed functions from housing perennials, to being a large indoor retail space for garden supplies, pots, indoor plants and Kiwi's workshops and classes.
An increased demand for trees in pots instead of Wire Baskets prompted Kiwi to expand in an innovative way, allowing them to grow their own potted stock and over-winter them effectively, so in 2017, the Pot-In-Pot field was installed.
This year, celebrating their 40th year in business, Kiwi has continued to make improvements to their retail space, focusing on providing a better experience for their customers and increasing spaces to host events. Having dreamed for years of opening a coffee shop, Ashleigh was thrilled to announce the opening of the Caffeinated Kiwi this summer, an onsite coffee shop/food trailer, which has already provided food and drinks at dozens of Kiwi events.