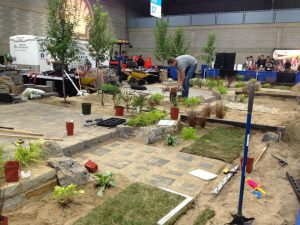 When Kathryn attended Olds College for the Landscape Gardener Apprenticeship Program, she was introduced to Skills Alberta competitions and although she was too old to participate as a competitor (candidates must be under 21) she knew she had to be involved.
Skills Alberta is a provincial competition of competitors from all facets of the skilled trade and technology industries, including landscaping, carpentry, electrical, heavy equipment technicians, culinary arts, software programming and many more. The competitions are open to the public and are geared toward promoting trades and technology careers to junior high and high school students – more than 15,000 students view the competitions and presentations each year. Visitors can watch the competitors, or get involved by trying out different trades and technologies for themselves
As a huge believer in careers in the trades, Kathryn loved that Skills gave students a chance to see and participate in trades. She wanted to be involved in promoting Landscaping by helping ensure there was a landscaping competition or booth for students to see each year. With the prompting of some of her Professors at Olds College, she got involved in the Provincial Trades Committee (PTC) and is still a member today, helping run the landscaping Skills competition by sourcing donors for materials, finding candidates and set up/tear down of the competition.
As supporters of Apprenticeship programs and careers in the trades, Kiwi has been proud to be a part of Kathryn's involvement with Skills by providing donations of plant materials to the competitions, and helping facilitate delivery and set up of tools and materials at the competition.
This (https://www.youtube.com/watch?v=mk4CrNJ0ltI#action=share) video gives you an overall feel of what Skills is all about. It showcases a few of the various trades and technologies that you could participate in.
Also, check out this sped up version of a provincial landscape gardening competition from 2012. The two competitors in this video went on to win Nationals and were able to compete on a world stage!