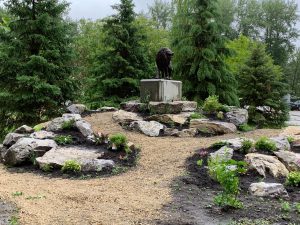 Many stories have been shared of Alison's personal commitment to volunteerism and community contribution, but involvement in community and industry has been a constant throughout the history of Kiwi.
As a business, Kiwi has donated many trees, plants and hours of labour and expertise to local organizations. They have always felt that it is important to give back and believe that giving of their time and expertise is the most valuable thing they can give. They have always focused their donations as close to home as possible, favouring donations that were linked to people they cared about, or related to activities they were involved in. Kiwi's donated trees, plants and more can be seen in the front bed at the Tri Leisure Centre, the City of Spruce Grove welcome garden bench, Spruce Grove Rotary Club, Devon Lions Campground, Stony Plain Hospice, EMSA and many more. Many of these donations were never requested or recorded, and were often an act of generosity on Murray's part to complete extra work, not charge for work, or provide additional discounts to organizations he saw value in.
In recent years, Kiwi has increased their community involvement, with Ashleigh spearheading the Spruce Grove Agricultural Community Garden initiative in Spruce Grove over two years ago, then partnering with the Spruce Grove Agricultural Society and other sponsors to work with the City of Spruce Grove to get the project off the ground for their first season this year.
On top of their involvement with community, the Munros have always prioritized being connected to others in their industry and have been members of Landscape Alberta-LANTA (Landscape Alberta Nursery Trades Association) since the 1980's. Landscape Alberta provides nurseries, landscapers, and anyone in the horticulture industry with policy support, educational resources, conferences and networking opportunities within the industry.
Over the years of Kiwi's involvement, they've enjoyed social events, volunteered in trade shows, benefitted from LANTA's policy work and government lobbying for industry specific concerns, been involved in improving standardized training for the industry, and have attended the Green Industry Show and Conference each year as a family. In addition to workshops and the Trade Show, Murray, Alison, Kathryn and Ashleigh see the GISC as a chance to network and relax with others from their industry. Murray loves to bid up his friends and competition in the silent auction, and they all enjoy catching up with other local nursery owners at an annual dinner provided by one of Kiwi's primary suppliers.