Since childhood, when she was involved in nearly every extra-curricular available in her school and community, Alison has had a passion for community involvement and "keeping busy". She is outgoing by nature, loves the company of others, and is a firm believer in being involved in the things you're passionate about. She never shied away from advocating for issues that impacted their family or business, and feels it is important to take action and work toward a solution instead of being part of what she calls the "Safeway complaint line". If you have something to complain about, do something about it – take action, convince others of a solution, and be adaptable to ways to solve the problem.
This passion for advocacy and involvement drove Alison to take an active role at Kathryn and Ashleigh's school (Ecole Elementaire Queen Street Elementary School) and the French Immersion program. Although Queen Street School has since been torn down and replaced by the Queen Street medical building, Alison's involvement at the school has had a lasting impact on thousands of students and teachers in the area, and especially on the local French Immersion program.
Murray and Alison chose to place Kathryn and Ashleigh in the French Immersion program so they could learn a second language at a young age – why not take advantage of any available opportunity? Alison quickly became an advocate for the program and joined CPF (Canadian Parents for French) to help promote and grow the French Immersion (FI) and French as a Second Language (FSL) programs, and even sat as president of the Alberta association for several years. She was passionate about creating an FI program that was inclusive and supportive of all students, not "elitist" by removing struggling students and placing them into the mainstream English program. When Kathryn was in grade 4, Alison and the other CPF members began lobbying the school board to develop a high school FI program. She knew it would take time and wanted the program to be in place and established by the time her kids needed it. They were successful, and the existing High School FI Program for PSD70 began in the late 90's, before Kathryn started high school in 1999.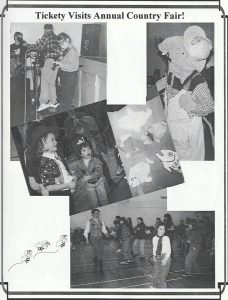 In addition to her involvement with CPF, Alison was also very involved with Queen Street's Parent Teacher Association (PTA), which later became the School Council. She took part in organizing teacher appreciation lunches, the hot lunch program, a fitness month including activities for teachers and students, and was very involved in the "Country Fair" which was an annual school activity and family festival. All who passed through Queen Street School will remember the door decorations, line dancing, the Country Fair mascot, Tickety the Mouse, and many activities in the gymnasium including the "cake walk" and pounding nails into boards. The Munros even brought in hay bales and their family dogs and sheep to add to the festivities.
Alison's involvement at Queen Street didn't stop there, as she was one of the driving forces behind improving the safety of the School Bus transfer station at the school in 1997. With 28 busses and hundreds of kids coming through in 20 minutes, Alison was concerned about the safety of the students and teachers given the narrow sidewalks and lack of barriers. Following her own advice about taking action, she climbed onto the roof of the school to videotape the bus transfers for two days, then took the footage and a proposal to the school board. Shortly after, barricades were installed.
Alison was such a presence at Queen Street that when a new Janitor was hired, he asked Alison after a month of school what class she taught! When Ashleigh began attending Queen Street, she was so used to being there with her Mum that she had to be told not to go into the Staff Room anymore and recalls being known and "Alison's Daughter" – she remembers feeling as though she couldn't "get away with anything" because all the teachers knew her Mum so well.
Kiwi Landscaping was also involved in the history of Queen Street, including building a playground in the early 1980s, and installing decorative garden beds in front of the building.
Alison, a woman of many talents, has always "worn many hats" in their business and has learned how to succeed in any role than needed to be filled. But she was never satisfied with keeping her efforts and talents focused only on the business, and has always found herself involved in various charities, events, sports or organizations, in addition to her involvement with Queen Street School and CPF.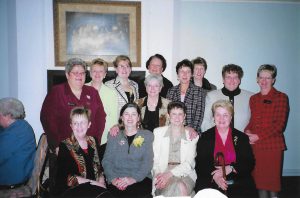 When Murray and Alison moved from New Zealand to Battleford Saskatchewan in 1976, the always involved and extroverted Alison knew she wanted to be a part of something that would allow her to meet other women and build relationships. So, she joined a women's sorority called Beta Sigma Phi, which means Life, Learning & Friendship. It was an organization designed for women to meet and enjoy friendship during the depression – The slogan for Beta Sigma Phi International – for the best friends of your Life! Alison transferred to Iota Chapter in Edmonton when they moved there in 1978 and has since progressed up to Preceptor Theta Chapter . She is still a member today, and counts the women she met through the group as some of her closest friends.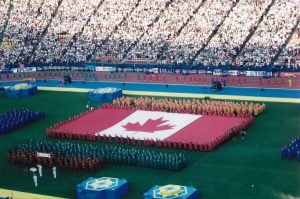 Since her school days, Alison has been drawn to athletics and has continued this passion by joining the Crestwood Curling Club in the late 80's where she is still a spare, and learnt to play soccer in 1998, joining the Spruce Grove Saints team. In 2005 she participated in her first World Master Games in Football (Soccer) in Edmonton on the Saints team. Her sister, brother and three of their friends from New Zealand flew in for the Masters to participate in athletics as well, so it was quite the family affair. In 2009 she once again participated in the World Master Games in Sydney Australia and recalls: "It was absolutely amazing to participate in the parade of athletes and walk into the Sydney Olympic stadium as an athlete. This was the closest I would ever get to my Olympic dream!"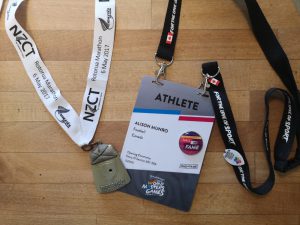 After skipping the Turin games in 2013, Alison played yet again in the Master Games in 2017 in Auckland, New Zealand. It was wonderful to be able to share her home country with her teammates, and her local family was able to come cheer her on. While she was there, Alison decided to run her first marathon at age 65, which was something she wanted to tick off her bucket list. As a teen she always wanted to run long distance but at the time the longest distance for female runners was 200yd or 200m, so on May 6th, 2017 she lined up with over 4000 athletes to run her first and only marathon.
Through the years, Alison has also been a part of a number of charity organizations and events, including:
• Door knocking and fund collecting for various charities
• STARS Air Ambulance silent auction and fashion show fundraising event
• Festival of Trees volunteer coordinator
• Halloween Hoopla at Westland Market Mall (ran the Haunted House with CPF)
Even now that she pretends to be semi-retired and has pulled back from various activities, she still keeps busy with the business, her friends, soccer, and has recently gotten more involved in the Spruce Grove Agricultural Society, as Kiwi has been a primary sponsor and driving force for the Community Garden.