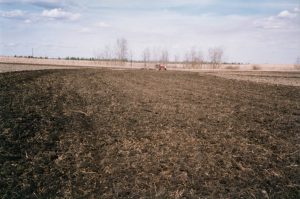 After their 1985 land purchase did not have suitable conditions to grow the trees they wanted to, Murray and Alison were once again on the hunt for nursery land in 1990. The top priority was finding the right soil conditions, so they focused their attention on agricultural land west of Edmonton, near their existing home and business property.
Murray and Alison had put in an offer on a piece of land that was "alright" but not ideal – a bit sandier than they'd like, and about 30 minutes south of their existing property (near Graminia). It was at this same time that the existing Nursery land, on the corner of Highway 16 and Atim Rd (Rge Rd 270) came on the market. It was 80 acres of agricultural land with a water source, five minutes from their existing property, and had been used successfully for grain farming which meant the soil would support the variety of trees they wanted to grow. Since this land was ideal, they withdrew their offer on the land near Graminia, and entered a bidding war for the current land. They placed their best offer (more than they thought they could afford) and got the land in 1990.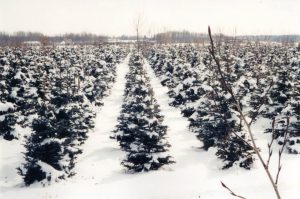 They immediately began growing trees on the property, and over the next five years managed to purchase and plant trees on the adjacent two 80 acre parcels (minus 10 acres subdivided off to a neighbor). By 1995 they had 230 acres, which is now home to the workshop, greenhouses, retail sales area, shrubs, perennials and over 20,000 trees planted in the fields. At the time of purchase, the land had several barns onsite, and a brick residence built in 1936, which has since been home to a number of tenants and today houses Kiwi's field crew/Seasonal Agricultural Workers.
After purchasing the land in 1990, the first order of business was to begin planting trees, starting with Elm, Ash and Spruce – a few of which may still be found on the edges of some of the growing fields. The second priority was to protect the existing water source and create a plan to use the water for their trees but keep it onsite. With approval from Alberta Water Resources, Kiwi created a dugout on the property to collect rainwater and spring runoff, as well as the runoff from watering their fields. To this day, this is their source of onsite watering, keeping the flow of water within the property.
In the late 1990's Kiwi built the workshop, and by 2000 all the equipment and most company operations had been moved from their home/workshop on "Farm 1" to the existing Nursery on "Farm 2".