After two years in Battleford, Murray and Alison were enticed by the opportunities in Alberta and wanted to move to Calgary where some Kiwi friends were living. They had immigrated at the same time. Murray applied for landscaping positions in Calgary, Lacombe and Edmonton. He ended up taking a position in Edmonton in 1978. His immediate supervisor was Ron Oudyk, who is still a close friend of the Munros and is the owner operator of another local landscaping company, Land Tec.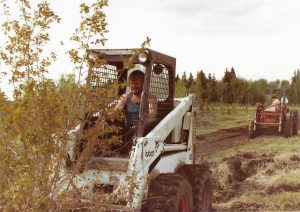 Murray was hired as an "experienced landscaper" on the commercial landscaping crew but he had never worked with landscape blueprints and had never seen a wire basket tree or operated a skidsteer. On his first commercial jobs at the Esso Refinery near Sherwood Park, the bobcat driver showed up to site unfit to work, so Murray took the initiative to send him home and taught himself how to operate the bobcat – there was a job that needed to be done, and he was confident he could learn anything he put his mind to. He was a natural at operating machinery and quickly learned the skills he didn't have when he started. During their first winter in Edmonton, Murray took a job framing houses despite having very little construction experience. He worked hard and quickly learned the skills he was missing. Within a month and a half, he was running the crew.
Alison was hopeful she could resume her career in Food Technology in Edmonton, as there was a Food Tech program at the U of A but was disappointed to find the closest related jobs were for cooks or dietitians. She applied everywhere she could and was hired as a the Manager of a Shell Food Store and Gas Bar, despite having no experience in management or retail. As well as managing her own store she trained new managers including her new boss in all aspects of running a store. She enjoyed the challenge of learning a new industry and was eager to move up the corporate ladder at Shell with the goal of working in their marketing division.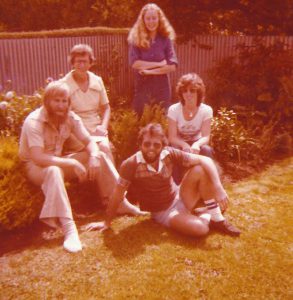 40 years ago, in the summer of 1979, Murray's entrepreneurial spirit took over again and he started Kiwi Bobcat Service, as he was now an "Experienced Bobcat Operator" after one year of self-teaching and on-the-job experience on commercial sites. He was mostly doing residential landscaping, so when he took on a business partner (Peter), the name was changed to Kiwi Landscaping since they were doing more than just bobcat work.
In their first year of business together, Murray and Peter had several workers on their crews and had a successful year, bringing in $170,000. Alison was involved in payroll but was still working her job as a manager at Shell. Their second year they doubled their business, and Alison knew with their success they needed someone reliable to work in the office to answer the phone and keep up the books. So she quit her job, took a considerable pay cut, taught herself accounting, and took over all the company bookkeeping and office work.
The company continued to grow, with Murray running crews on large commercial sites all over the province, and Peter mostly working alone on smaller local projects. In 1982, Kiwi Landscaping landed several large contracts and had a very successful year, and at the end of 1982 Murray and Alison bought out their partner and formed Kiwi Landscaping (1983) Ltd.