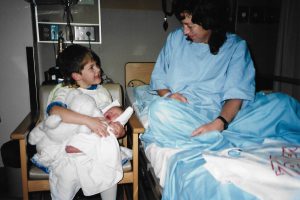 In 1989, Murray and Alison once again felt that deep desire to bring another child into their family. After their successful adoption experience with Kathryn in 1985, they felt confident to take this route again, so once again began the adoption process by attending an adoption seminar in Edmonton on a beautiful summer day (much to Murray's annoyance as he kept thinking of all the landscaping he could have been doing).
Alison recalls attending the seminar and finding out another woman in attendance was pregnant. She remembers feeling that pang of longing for a child of her own, so it was "one heck of a surprise" when she and Murray found out two weeks later that Alison was also pregnant at the time!
On March 5 1990, Alison woke up early in the morning to the start of labour. She remembers feeling the strong contractions and being aware she was in labour but was not experiencing any pain. She approached her labour much the way she approached other areas of life – with calm determination. Before waking Murray, Alison found herself cleaning dirty shoes, tidying the house, making snacks, and packing bags to prepare. They finally left the house and dropped off Kat, then arrived at the University of Alberta Hospital, where Alison was still experiencing strong labour contractions but no pain. Her attending nurse predicted she would be the first one to go to the delivery room and that she would have a boy, based on the faster heart rate.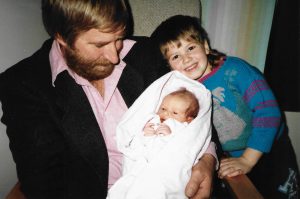 After a calm walk down to the nursery and back, Alison felt the urge to push so was taken to the delivery room. She had an intern doctor because her doctor was not available. Right at that moment, the emergency lights came on due to a power outage, but none of this phased a focused Alison from her task at hand. Ashleigh was born very soon after arriving in the delivery room, and gave everyone a bit of a scare as her umbilical cord was tightly wrapped around her neck (which explained why her heart rate was higher, causing the nurse to predict a boy).
Ashleigh completed Murray and Alison's family on March 5 1990. A very excited big sister Kathryn came to visit and meet her new baby sister at the hospital, where she cuddled her and sang her a song about how she was her big sister and was always going to look after her. The transition to two children went smoothly for Murray and Alison, with the help of Murray's mum who came to help out for 6 weeks, and Murray and Alison were right back into full swing with the business within a couple months of Ashleigh being born.