The second decade of Kiwi (1990's) was another decade of growth, but that growth looked different for the Munros than it did in the 80's. As more companies got into hardscaping and larger out of town jobs, the competition became greater in those areas – and once again Kiwi Landscaping shifted their focus to where they could find business success. This shift in focus brought them back in town doing mostly commercial jobs including schools, commercial buildings, community signs and parks in the City of Edmonton.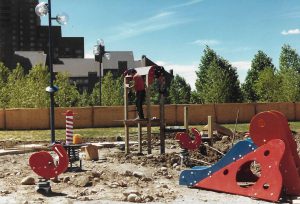 This change of focus to local (and often smaller) commercial jobs meant that Kiwi Landscaping was now doing an average of 35 projects per season instead of the average 15 per season they were doing in the 1980's. Murray continued his role as the foreman for all the (now doubled) sites, and Alison continued in her role in the office. The increase in the number of projects was a substantial shift in workload for Alison in the office – the paperwork and site visits were the same for every project no matter how big or small.
Despite an increase in demands in the office, Alison enjoyed her role as a self-employed work-at-home-mother, as the flexibility allowed her the opportunity to attend school field trips and devote time to her children and other pursuits when she needed. Sometimes this meant that Alison had toddlers in tow at job sites or estimating offices.
As Kiwi shifted into local commercial landscaping, with a focus on jobs for municipalities, it became clear that a strong safety culture and robust Health and Safety Program were going to be crucial for their company to continue their work with municipalities. Alison began attending courses at the ACSA (Alberta Construction Safety Association) and quickly developed a passion for creating a safe work environment for their employees. In 1994 Kiwi landscaping obtained their Alberta COR (Certificate of Recognition) for their safety program, and still maintain this status today.