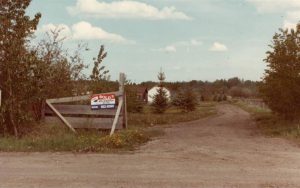 After returning from a trip home to New Zealand, Murray and Alison bought their first farm in 1984. They had a specific budget for land that they hoped to use for a warehouse, store equipment and live on, costing less monthly than they had previously been paying for their house mortgage in Edmonton and a warehouse rental for storage of company equipment. They were looking further west of Edmonton (past Stony Plain) as they assumed this was the only way they could afford land.
When they saw a 38 acre parcel for sale with an existing garden centre and nursery on it, it seemed too good to be true so they assumed it would be out of their price range, but figured they should inquire anyway. The property was listed much higher than their budget would allow, but the realtor hinted at the fact that the seller would take much less, so the Munros put in an offer. The offer was accepted for $55,000 less than the asking price, and Murray and Alison became the proud owners of 38 acres of land, just off the Yellowhead (Hwy 16) and Highway 60.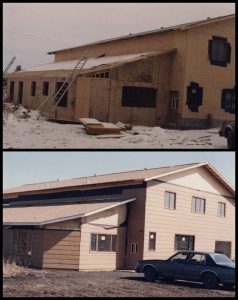 The property did not have a house on it, so they found a place to rent on the west end of Edmonton while they built their combined family home and workshop. They had a limited budget so chose to build the workshop and house as one structure, and kept the design simple.
With some basic framing and construction experience, and a Can-Do attitude ("it's just nailing a bunch of stick together…"), Murray decided to build the house himself with the help of a few of Kiwi's seasonal landscapers who were happy to have work over the winter. It was one of the coldest winters in decades, sandwiched between two very busy landscaping seasons, but by April 1985 construction was completed enough to move in.
It was a busy year with buying land, building the house, family visits from New Zealand, and the start of the adoption process. When they moved into their new home they lived upstairs as the main area wasn't finished yet, but they had the bare essentials covered which was all they needed. They didn't plan to live there long term and had plans of building a larger, separate house on the property in a few years time. So they surprised themselves, when after bringing Kathryn home in October of 1985 they ended up living in that home for 22 years and raising both of their children there.
The land had several rundown buildings on it that had to be torn down, and although it was an existing nursery most of the trees planted there were overgrown and had not been looked after for several years. Since the existing trees were not salvageable, Murray and Alison began planting their own trees to supply their many landscaping projects. Unfortunately, most of what they planted struggled and they discovered that not only was the soil very peaty, but the land had very poor drainage.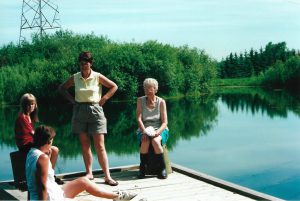 In an attempt to combat the drainage issue, Murray completed expensive groundwork for drainage, which included two dugouts to collect the water that had previously been pooling in the tree fields. Since this was their family home and not just a nursery, these functional changes to the land doubled as recreational areas for their family, and the drainage dugouts were referred to as "the lakes" which included a dock and were a popular place for the Munro Family and their friends for swimming, canoeing, ice skating, fishing and more.
Even with the improved drainage, most trees still struggled in the peaty soil and they had fairly limited success in growing their own stock on the land as they had hoped, so the land ended up being used primarily as a holding area for the plants Kiwi ordered in for their large commercial projects.
Although the land did not end up being the nursery they had dreamed of, it still saw many other developments over the years, including:
– The start of a Par 3 golf course, which never got up and running due to being too busy with landscaping. This doubled as trails and clearings for the kids to explore and enjoy.
– A full-size soccer field for Alison and the Munro kids and their friends to play on.
– A beautifully landscaped yard and a massive vegetable garden, again enjoyed by the Munro family and many of their friends
Farm 1 was sold in 2006 to an eager land developer during the 'boom', and Murray and Alison built a stand-alone home on a smaller acreage next door. Their company operations and workshop had since been moved to the existing nursery location, so there was no longer a need for a workshop and equipment storage right at their house.