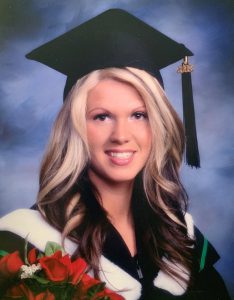 Kathryn Munro
Kathryn, eldest daughter of Murray and Alison, always loved working with her dad on landscaping sites and enjoyed operating equipment and getting her hands dirty at any opportunity.
For two summers in high school she took a break from full time work with Kiwi to build modular homes for a company nearby, but could not stay away and began working full time for Kiwi in 2009 to make money in her summers between University.
After graduating from Spruce Grove Composite High School with a French Immersion Diploma in 2003, Kathryn set her sights on the Architecture program at the University of Manitoba. Shortly after arriving, she met and was inspired by an amazing professor/mentor and chose to follow her into her field, and ended up completing a Human Ecology Degree in Family Social Sciences with a double major. Her first major is Child & Adolescent Development and the second major is Family Violence & Conflict Resolution, graduating in 2008.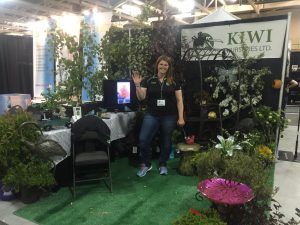 After completing her 5 years of university, Kathryn did not want to leave the client base she had built during her summers at Kiwi and decided to follow a landscaping career instead of pursuing a career related to her schooling.
Having worked part time at Kiwi for the past 5+ summers and accumulating over 300 hours per month during their busy season, Kathryn had clocked more than the required 1500 hours of practical experience for the Landscape Gardener Apprenticeship Program offered at Olds College. She completed the four in-class portions over two years and obtained her Journeyman Landscape Gardener ticket in 2011, with a Red Seal Designation. She was able to apprentice under Murray, who (along with Alison) had been grandfathered into the Journeyman program when it first began.
Kathryn already had years of practical plant knowledge and landscaping experience, but her time at Olds provided her with additional training in landscape design. This allowed her to add consultation and design to the services she could offer to her growing list of clientele. Still, most of her days were spent onsite planting trees, working closely with two of Kiwi's Seasonal Agricultural Workers. Kathryn still considers them to be like family. They were a well-oiled and efficient planting team, for both residential and commercial clients.
As the business continued to grow, Kathryn maintained involvement with her clients at every step along the way from sales to planting to follow up, describing herself as a "creature of tradition" who likes doing things herself and the same way it has always been done. She values the efficiency and competency which comes with familiarity and loved the sense of accomplishment she felt from serving her clients through every step of the process.
Although she loved her work at Kiwi, Kathryn felt over time that she was working too much and could not sustain that number of hours while focusing on her family the way she wanted. So after finishing out the season at Kiwi in 2015, Kathryn started a new job at the City of Edmonton in spring of 2016 where she continues to work as a Project Manager, managing "Open Space Construction" which primarily includes city parks and playgrounds.
Although she no longer works for Kiwi, Kathryn is always interested in what Kiwi is doing and enjoys chatting with Murray or coming to the Nursery to see what is going on. She enjoys the new path her career has taken, but still misses many things about working at Kiwi and especially the chance to be onsite, getting dirty, which is where Kathryn feels truly in her element.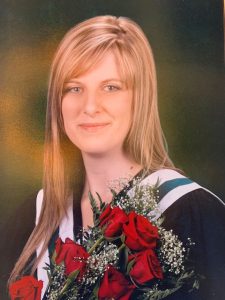 Ashleigh Munro
Ashleigh, youngest daughter of Murray and Alison, runs the current Nursery & Garden Centre at Kiwi, but that was never her career intention when she was younger.
Similar to Kathryn, Ashleigh has childhood memories of operating equipment and helping on landscaping job sites, but always viewed it as "family chores" and saw it as Kat's "thing" and had no desire to work for the family business. When she was 16 she got her first "real" job at A&W where she worked as much as she could between school and Ringette. Ashleigh always had an entrepreneurial spirit and is a big picture thinker like Murray – even before she was in school she was always coming up with new business ideas or projects and always knew she would be her own boss one day.
Similarly to her dad, Ashleigh has always had a sharp mind but struggled in school having been diagnosed with dyslexia and lacking sufficient support from the school system. Although she didn't like being in school and struggled with reading, her creativity helped her find workarounds to make it through her classes and find ways to entertain herself through her school days. By the time high school rolled around, she was ready to drop out and do something different. But Alison was a strong advocate for education and wouldn't let Ashleigh drop out, so continued pushing for the resources Ashleigh needed to graduate. In 2008 Ashleigh graduated from Spruce Grove Composite High School with a French Immersion Diploma.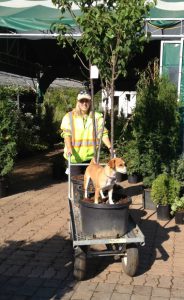 Ashleigh and her parents knew she would follow a career path that would result in her "doing her own thing" and being her own boss. Her previous employment experience had made it clear that she didn't enjoy working for other people– she always had ideas and suggestions for improvement and either quickly rose into a supervisory position, or left to find another job.
Although Ashleigh felt like she was "done" with school, Alison continued to be very pro-education and felt that a program related to running her own business was important for Ashleigh, so she signed her up for the Business Management & Entrepreneurship Diploma program at NAIT in Edmonton.
After completing the program in 2010, Ashleigh continued working at other jobs, providing help to Alison with the odd tech-related thing, and some paperwork. One of those tasks she did to help her Mum was to review invoices from the season to complete an inventory count for government reporting purposes. After finding hundreds of missing details and mistakes on hand-written invoices, Ashleigh began looking into computer-based POS systems and convinced her parents they should implement one to help streamline their invoicing and inventory. They agreed and asked Ashleigh to come to Kiwi for the 2012 season to implement the new system. Ashleigh said yes, thinking she would help with this one project then return to other business opportunities.
As the season progressed, Ashleigh became involved with sales and other aspects of the business and – as with her previous jobs – couldn't help but notice all the areas for potential growth and improvement. Being a family business and already having the trust of the owners, meant that Ashleigh was quickly able to make her ideas a reality and took on more and more responsibilities, implementing new systems and changes to facilitate the growth of the company. She had found an outlet for her big picture thinking and need to be her own boss, and has continued to create and pursue her goals for growth and advancement at Kiwi, believing that "if you don't improve, you stay still and if you stay still, you get left behind."