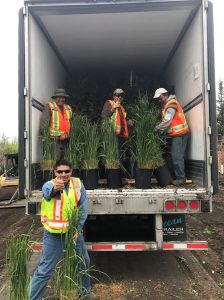 As the Nursery became more productive and the need for farm staff increased, Kiwi was finding it more and more difficult to find reliable and knowledgeable local staff who were willing and capable of doing the physically demanding and often repetitive work. So in 2001 Kiwi Landscaping partnered with the Seasonal Agricultural Worker program for the first time, and brought over two farm workers from Mexico, housing them onsite and providing them with work for the season.
The program approves 80,000 workers to come to Canada every year, all from an agricultural background and supporting their families in Mexico. Each province has different requirements for what the farm must provide their SAWP workers, and after hearing stories of disrespect and cramped living quarters in other provinces, Kiwi worked with Alberta to ensure a requirement that all workers are treated with dignity and respect, which includes having their living spaces approved by Alberta Health Inspectors.
Since their first year in 2001, Kiwi has continued to be a part of the SAWP program, and this season houses and employs six Mexican workers on the farm. All of the current workers have been coming back anywhere from 3-11 years. One of the first two workers who came over was with Kiwi for 14 years and attended Kathryn's wedding. The Munros have always provided their SAWP workers with extra support and access to local resources, and have been known to host them at their home for holiday dinners or to experience some Canadian fun on their days off.
Although there were some learning curves with training and will always be some challenges with language barriers, Kiwi continues to value and support the SAWP program, acknowledging that without the reliability of the workers who return year after year, the Nursery would no longer exist.