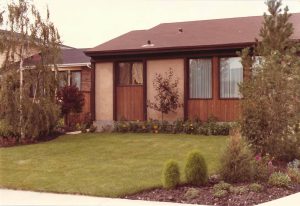 Murray and Alison moved to Alberta in 1978, they quickly realized the opportunities were amazing, and they decided to stay the five years required to obtain citizenship before returning home to New Zealand. The salaries in Edmonton were higher than in New Zealand, so with a significantly lower cost of living and half the taxes, they were able to make and save much more money that they could have in New Zealand.
When Murray and Alison became Canadian Citizens on July 1st 1981 they were already two years into a rapidly growing, successful business so decided to stay a little longer. As growth continued, they became more invested in the community and their business, and it became less and less likely that they would be returning to New Zealand full time anytime soon.
After a successful first season on their own as Kiwi Landscaping (1983) Ltd., Murray and Alison returned for a visit to New Zealand. With the high interest rate on their home mortgage, they decided last minute to sell their house right before returning to New Zealand for a few months. When they returned to Edmonton, they realized they could afford to purchase land for less than the cost of their previous home mortgage and warehouse rental payments, so decided to buy land and start their family.