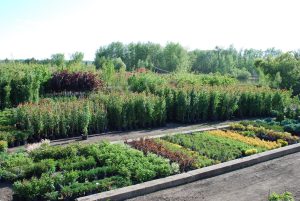 The shift from Commercial Landscaper to Retail Garden Centre has been a gradual shift, and one which largely follows the passions of those most involved in the business.
Throughout the 80's and 90's, Kiwi shifted their focus as the industry changed, but with Murray at the helm, the focus always remained on his area of expertise – completing landscaping projects efficiently. As the trees in the Nursery matured, their jobs shifted to focusing on commercial jobs with a high number of trees Kiwi could supply from their fields.
As the Nursery grew and drew in more residential clients from Kathryn's passion for working with people, Kiwi began bringing in a larger selection of shrubs and perennials. As Ashleigh increased the retail space and online presence, she began ordering increased varieties of plants and products.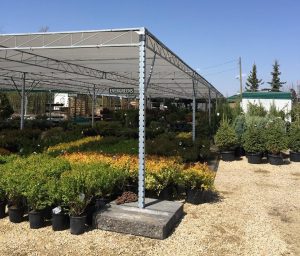 Since she started in 2012, Ashleigh has taken on the responsibility of managing the growth of the retail yard, which includes managing staff, ordering, working with clients and community relations through volunteerism and marketing. With Ashleigh as the main managing force, retail sales and services has become the primary focus of Kiwi Nurseries, adding events and classes to their offerings to the public. Being onsite and running commercial landscaping jobs has never been Ashleigh's passion, so with the increased competition in the industry, Kiwi has pulled back from commercial landscaping, completing their final job in 2018. However there are still a few small projects that they do for special clients. Kiwi Nurseries' still continues to plant the trees they sell, and plants hundreds of trees annually for the Cities of Spruce Grove and St. Albert, but has significantly shifted from their origins in Landscaping in the 80s.
As the retail yard has grown, Murray and Alison have begun to dream of decreasing their workload, but pulling back from a 40-year old business grown from nothing is not an easy undertaking. Alison now has some help with the safety program, but continues to do all the bookkeeping and office work herself. Murray has scaled back his tree planting and harvesting, but finds himself putting in as many hours as ever working on projects at the retail yard, or completing residential deliveries and planting.